April 17th, 2018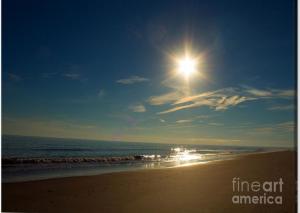 Sometimes we are just at the right place at the right time. Have you ever found yourself there. This particular picture was just like that. You did not see the people that were off to the side, they had not ventured that far down yet. You do not see the people behind me. All you see is the quiet expanse of the beach, the ocean and
April 5th, 2018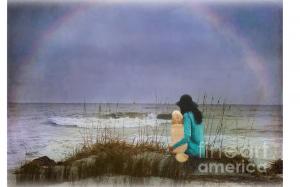 Waiting a picture that shows what sometimes life is like. We all have to wait from time to time. Sometimes it is for good things, that new grandchild, the new house, the vacation that has been planned for. However there are times that it is a little nerve wrecking such as waiting on test results, in school or medical. It is always easier when waiting with a friend tor the ship or the news that is coming.

Finish reading at 3SandraClark.com
March 13th, 2018
My most recent work of art is a work of perspective. I call the work "Memories". What does a young girl of ten think of as she swings in her swing. Does she daydream of the life to come, the jobs she might have, the man she might marry, the children she might have? How are those daydreams different from the ones we have at 50, 60 or 70, when we dream of what life was like when we were young, or when our kids were young?
continue on my website
February 2nd, 2018
Thursday, February 01, 2018


The past winter storm gave me a chance to take some winter photos. Since I live in the South , photo ops with snow are very few. Thank goodness everything shuts down. We go into "snow and iced in" mode and we relax and stay home. Now before you Northerners laugh at us let me explain a little. There are not very many sand trucks or plows, we usually have more ice than snow, and there are just not enough trucks to clear all the roads.

So I bundled up in my wool coat, which is a dressy coat I might add. Underneath this nice fancy warm coat I had long johns and a sweat suit. Now the coat zipped but was just a little tighter then it is with my dresses. Then I put on this incredibly goofy hat, but it is warm. No gloves I wanted to take pictures. .I putt on my little duck shoes and I was off to the end of the driveway.

Yep folks that picture is my road, i took out the mailboxes and the end of one car. It makes a really pretty picture and if we lived in the north the plow man would of destroyed it. I got up there right as the soon as coming up I think it was worth the walk to the ed of the drive. What do you think?

Sandra
September 9th, 2014
I was reading in Isaiah today and it struck me that here it speaks of our clothing like Paul in Ephesians speaks of our armor. Isaiah speaks of our strength like Paul speaks of mighty power. Then I decided to look and see how tightly these two passages correspond.

Isaiah tells us to put on our garments of splendor; Paul tells us to put on our full armor. What a splendid and beautiful thing to put on. We are supposed to free ourselves of the chains around our necks: is that similar to laying down our burdens (Matt.11:25-30)?

Our feet are fitted with "with the readiness that comes from the gospel of peace." Isaiah says they are beautiful because they take us to places to spread the good news. The verse that got to me the most was Isaiah 52:12:
"
But you will not leave in haste or go in flight; for the Lord will go before you, the God of Israel will be your rear guard."

This is another place that tells us why we do not have any armor on our backs. I was always taught that we were not to retreat and that is true, but it is also because God our Father has our back.

Who better to have your back than Him?

May 29th, 2014
"I believe in Jesus Christ as my Lord and savior. I believe that Jesus died for my sins, and rose again, and that's my belief. I still don't know what 'Christian' means. I'm a follower of Christ, but I keep making a whole bunch of mistakes. And I thank God for forgiveness."
Sherri Shepherd


I agree with Sherri, I believe and yet I keep making mistakes. It is like the apostle Paul said in Romans 17 "I know that nothing good dwells in me, that is, in my flesh; for the willing is present in me, but the doing of the good is not. For the good that I want, I do not do, but I practice the very evil that I do not want. But if I am doing the very thing I do not want, I am no longer the one doing it, but sin which dwells in me." I still strive to do good at every turn. I often do well too but I as Paul, I fail so much of the time. I am so thankful we serve a forgiving God.